As the world moves towards healthier, eco-friendly, and cost-effective transportation options, the demand for easily accessible and secure bike parking solutions is on the rise. Cities are seeking technology-driven solutions for all cyclists, beyond a traditional bike rack – something with the potential to redefine how we think about active travel.
Bikeep empowers cities to create modern, multi-modal, and interconnected transit systems that prioritize convenience and sustainability. Our mission is to provide secure bike parking infrastructure as a vital component of connected urban environments.
Bikeep's smart stations enhance public safety and encourage active commuting. Our user-friendly mobile app offers free parking and easy access to the entire city-wide network of stations, while also supporting tap cards for greater inclusivity. The service can be integrated with the city's transportation infrastructure via the local tap card system.

Through the easy-to-use app cyclists have access to the entire network of parking stations city-wide and can plan their commute, even reserve parking, ahead of time.
Bikeep stations come equipped with multiple layers of protection:
Loudspeaker alarm
An audible sound alerts people nearby to any attempted theft.
Secure steel bar
Locks the bike from the wheel and from the frame.
Connected to internet
Provides automatic distress signal forwarding and live usage overview for instant detection of misconduct.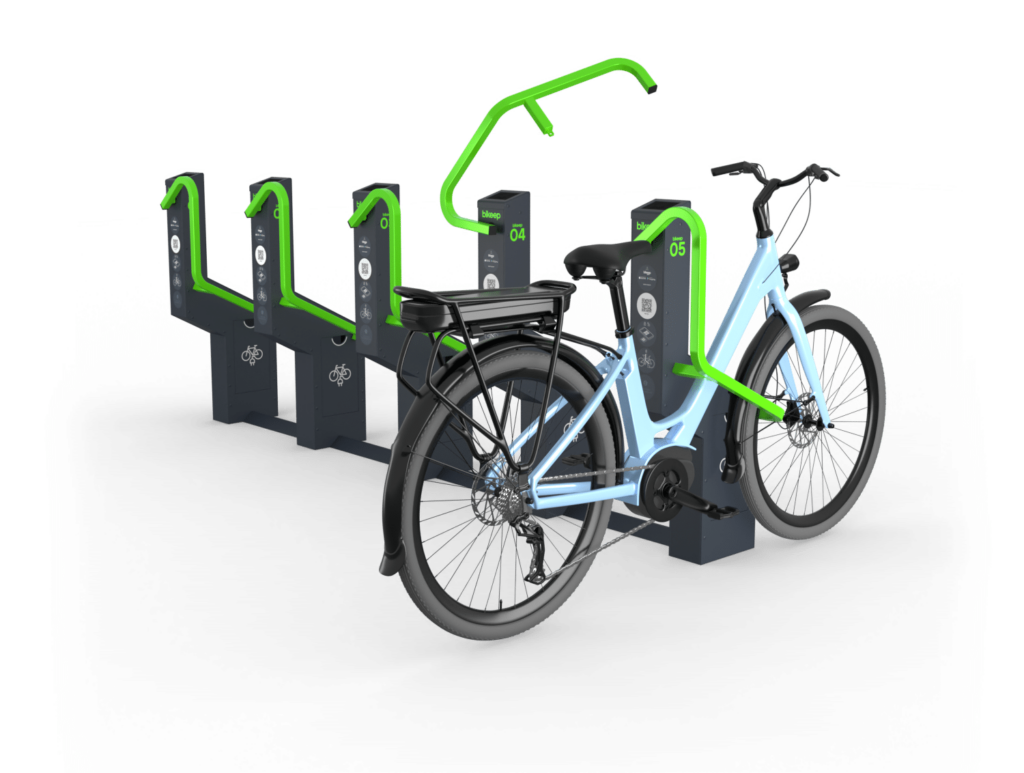 As cycling becomes more popular, secure and intelligent bike parking is quickly becoming the standard. By implementing a Bikeep Network, cities can promote physical and mental well-being, support local businesses, and contribute to zero-emission goals.
Studies show that each month, cyclists spend 40% more in nearby shops than motorists. University campuses, public transportation stations, businesses big or small, high-traffic tourist attractions and shopping malls can attract more visitors by making them accessible by bike.
Additionally, Bikeep Network gathers real-time data about usage and allows the city to manage parking with remote access.
Secure, Convenient, Inclusive, and Sustainable
More benefits:
Increased bike usage
Based on our experience, implementing a city-wide network of secure parking stations for bikes can yield a remarkable 50% increase in bike usage within a mere two-year timeframe.
E-bike charging
Bikeep offers both standard and e-charging enabled stations, catering to various user needs. E-charging stations allow secure e-bike recharging while parked, and their citywide installation encourages a transition from cars to e-bikes, fostering a greener, more sustainable urban transportation landscape.
Co-branding
Enhance city image and foster civic pride with co-branded bike parking stations featuring city logos and colors. This creates a sense of community and unity among citizens.
Over the past decade, Bikeep has collaborated with municipalities, transit authorities, commercial real estate providers, and local retailers to develop seamless bike parking networks that increase cycling rates. Our stations help address mobility issues, ensure safer transportation, and support zero-emission goals.
Together let's build cleaner, safer, and more vibrant cities!