Highly Secure Smart Bike Parking Station for personal bikes
E-bikes are the most popular electric vehicles in the world! With more e-bikes in the streets, parking and charging solutions are in high demand. Our bike docks include charging so you can solve two challenges at once: bike parking AND charging.

We transform the way we move around urban areas. With more e-bikes in the street, urban transport is changing fast. With the proper infrastructure, a greener, healthier and more sustainable lifestyle will become the standard. Among other changes, e-bikes make cycling even more popular in all age groups and will enable travel longer distances. Join the movement with us!
Parking with the Bikeep bike parking station is as simple as riding a bike. Use a mobile phone or local transportation card to lock your bike. No inconvenience of carrying your own lock.

Each station is equipped with a surveillance camera. You can also customize branding and colors. Add solar panels or ground plates.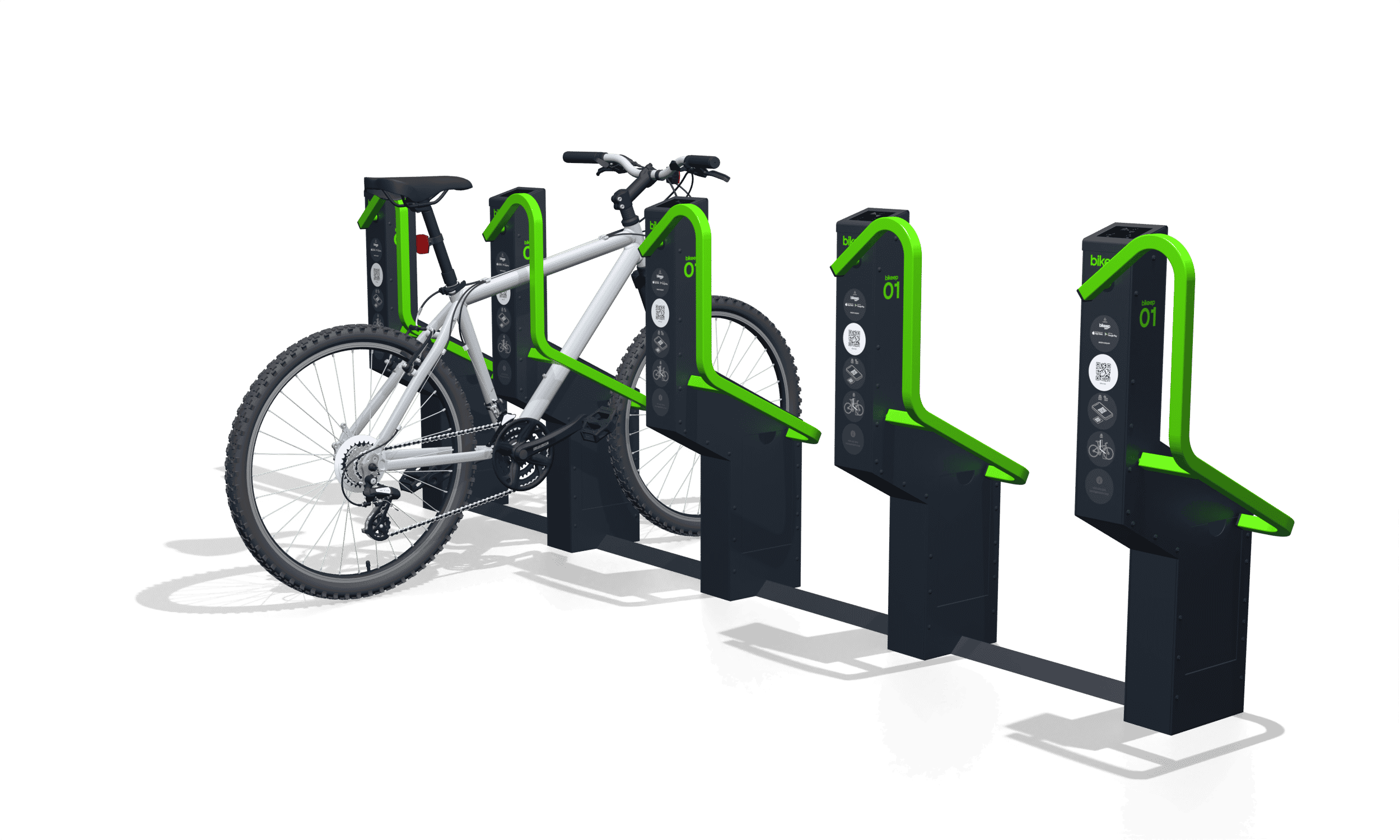 RFID card reader
13.56Mz reader. Bikeep provided card or Bikeep validated contactless cards.
Loudspeaker alarm
If someone tries to steal a bike, the whole neighbourhood will know.
Galvanized steel bar
Secure – Locks the bike from the wheel and from the frame.
Connected to internet
Distress signal forwarding and live usage overview.
E-charging
Optional e-bike charging add-on.
Statuses
Available, reserved, closed, unavailable.
The smart bike parking station is for public, private, or commercial use. All our bicycle racks come with many benefits, one being E-bike charging.
Our bike racks help businesses and public areas to become more bike friendly and therefore attract more cyclists. Bike rack can be set up with restricted access by an app or an access card, so that only specific people can use it, for example, your students, employees or tenants. Bikeep bike racks have e-bike charging possibility.
Forget about low-security ordinary bike racks! The bicycle is becoming a product of well planned smart city strategy that needs the same work and effort in infrastructure that cars did back in 1980s.
Smart Parking Station in Augmented reality (AR)
Scan the QR code for Augmented realityiOS 13+, iPadOS 13+ or Android
with ARCore 1.9+ required