Just over a fortnight ago, Europe's longest full-service parking management company APCOA opened its first UK Urban Mobility Hub to the public at St Catherine's Walk Car Park in the Welsh town of Carmarthen. Urban Mobility Hubs are designed around a convenient central location, accessible to everyone, and able to offer a variety of services all in one place. The hubs can also be used for getting local information and as a well-situated point to switch from one mode of transport to another.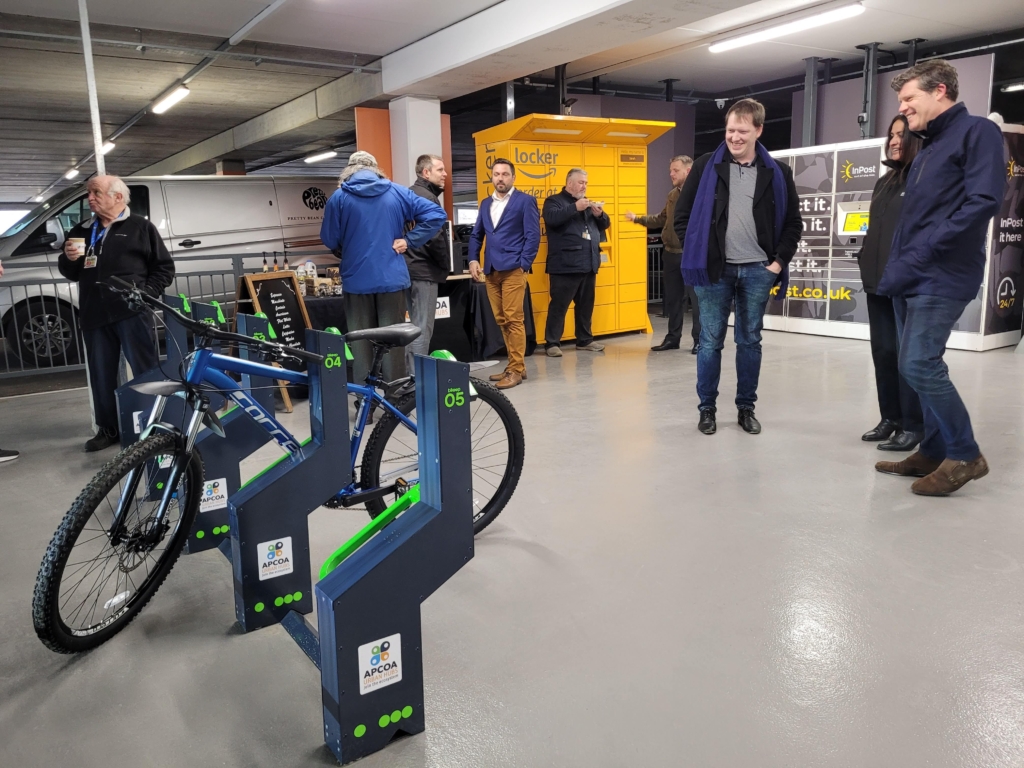 The Hub was officially opened by the Mayor of Carmarthen and the launch was attended by the Deputy Mayor, representatives from Transport for Wales and GWR as well as APCOA's Urban Mobility Hub partners.
"APCOA is proud to be at the forefront of the Urban Mobility Hub movement in the UK, designing spaces that bring convenience and sustainability together in one place and changing the future of car parks as we know them. As market leaders, we have a responsibility to drive sustainability targets within the industry and to create change that benefits customers and communities alike, and this is why Carmarthen represents such an important milestone" says Kim Challis, APCOA Regional Managing Director UK&I & Group ESG Director. Kim concludes that, "APCOA are delighted to be partnering with Bikeep to offer practical and secure bike charging and storage facilities for Urban Mobility Hub customers who want to use a more sustainable mode of transport" says Kim Challis, APCOA Regional Managing Director UK&I & Group ESG Director
"We're excited to partner with APCOA to bring our smart bike parking infrastructure to Urban Mobility Hubs. As more and more customers choose active and sustainable modes of transport, we're thrilled to offer this solution to meet their needs. This collaboration perfectly aligns with Bikeep's mission to reduce car dominance in cities by having entire networks of secure and convenient bike parking, while also contributing to APCOA's commitment to sustainability. We are proud to see the positive impact this will have on the local community and visitors to Carmarthen." commented Kristjan Lind, CEO of Bikeep.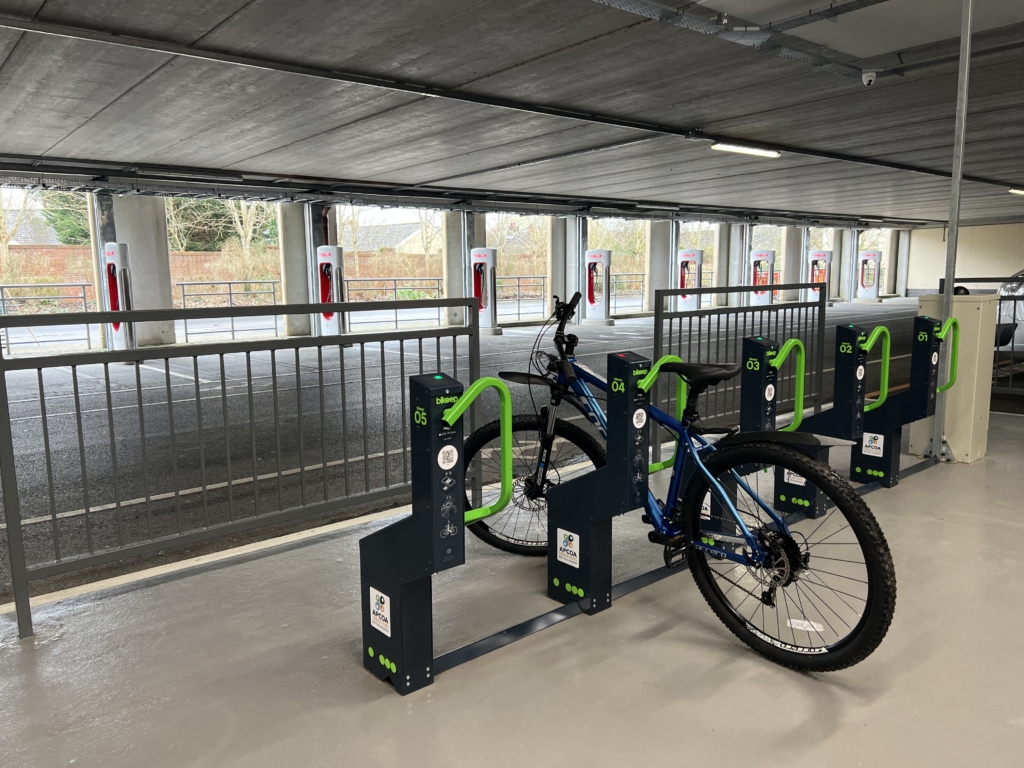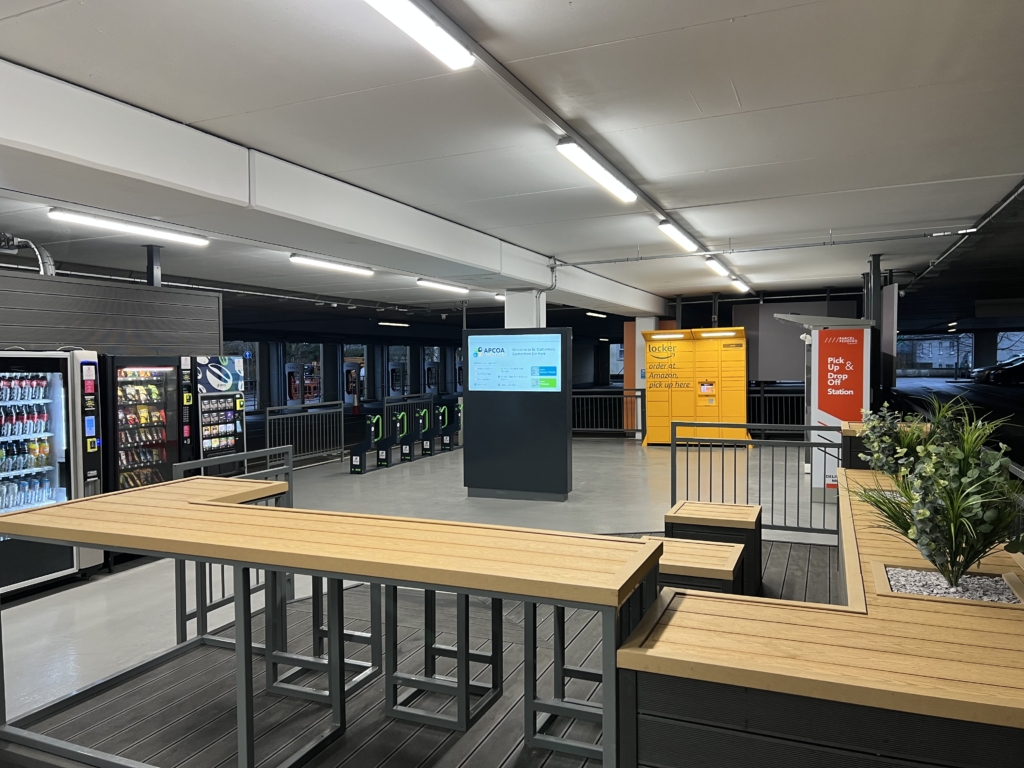 The car park is operated using APCOA's digital platform, Parkway – Europe's most connected and customer-centric digital parking solution. This provides state-of-the-art ANPR technology together with multiple payment options for customers' convenience. By working with a network of partner organisations, APCOA has equipped the car park at St Catherine's Walk to offer a range of services focused on the needs of the local community and visitors to Carmarthen.
These include:
12 super-fast and 5 rapid EV chargers
Secure bike parking station with e-bike charging possibility
Seating area with vending machines for hot and cold drinks and snacks
3 banks of delivery lockers covering every major courier
A pre-bookable, private office pod
Free WiFi
Live transport screen showing real-time information on local bus and train services
Urban Mobility Hubs in Manchester and Sheffield are the next to be opened by APCOA in the coming months with a rollout of ten sites planned, all with services tailored to benefit the local communities and contributing significantly to APCOA's ongoing commitment to sustainability.
ABOUT APCOA
APCOA PARKING Group is the UK's leading provider of tailored parking solutions with an established presence in Europe. It is a full-service parking management company, managing 1.3 million parking spaces, across 12 countries and approximately 4,300 employees. The company offers innovative, reliable, and secure parking services, supported by highly trained personnel and unique technology.
ABOUT BIKEEP
Bikeep is the world's leading provider of smart bike parking infrastructure for forward-thinking cities. The company's mission is to decrease car dominance through a network of secure and seamless bike parking. The company operates in over 20 countries through partners or local subsidiaries and has over a decade of infrastructure expertise in the smart parking industry.