Electrifying in every sense of the word
Docked based rental fleets
Automatic rental stations keep your scooters charged and docked.
Bikeep scooter rental station is the ideal option for anyone who wants to provide an easy, fast and convenient way of commuting for clients or tenants.
Bring additional value to your customers! Bikeep scooter rental station makes traffic around your property much more versatile and modern.
With the help of an automated and dock-based rental system, the scooters are always charged and parked correctly.
Want to monetize this solution? It is easy through a smart administration system accessible from anywhere.
Last-mile trips with scooters? Loved by people, provided by you.
Automatic rental stations keep your scooters charged and docked.
No scooter is ever left blocking the way of right for others
E-scooters are always fully charged
Costly re-distribution efforts are not needed
Run a small A-A rental scheme, where scooters are returned to the station
Run a bigger A-n rental scheme where users can leave their e-scooters to any other docking station.
Success story: Meriton hotel
An ideal solution for those last mile trips
E-scooter is the easiest way to commute those 1-mile trips downtown. Hotels like our client Meriton can offer their employees and tenants a convenient way of commuting near their buildings.
For them it was essential that the accessibility to their buildings would be provided and that scooters would always be arranged in their property so that everyone would feel safe and welcome.
Manage your scooters your way and integrate with your services.
Our philosophy is your scooters, your Bikeep. You can build your workflows based on whether scooters are locked, unlocked or charging. Why? Because we believe that at the heart of innovation lies collaboration.
Book a brief introductory call to explore how Bikeep's scooter station can help you.
Get in touch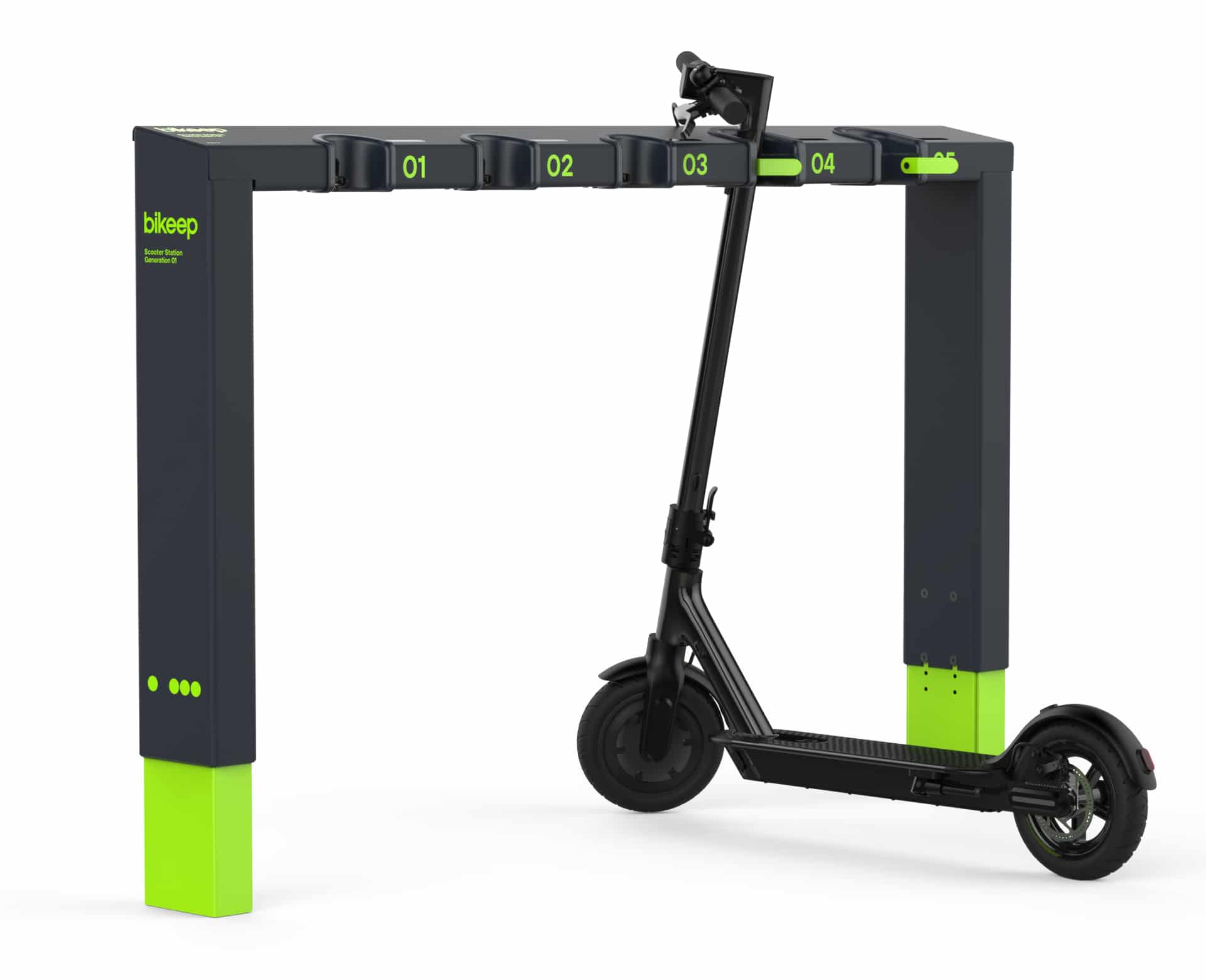 Instantly useful and practical
See how you can use Bikeep to solve problems and create new business
Paid e-scooter rental 
Integrate with our API to build your own paid business model: charge for rentals or even for parking itself.
Free e-scooter rental
Start a free e-scooter rental use only for people who work or study on your campus or live in your properties or city.
Get your community to move
Are people constantly crumbling about how long it takes from their parking spot to their office or to lunch?
Gain valuable data
Collect data about the movement of people in your city, campus or between properties in a privacy-friendly manner.
Real-time API
See if scooters are locked, unlocked or charging.
Adjustable height
Fit different models and types of scooters.
Optional sleeve add-on
Ensure connectivity and device safety.
Scooter Station with Augmented reality (AR)
Scan the QR code for Augmented realityiOS 13+, iPadOS 13+ or Android
with ARCore 1.9+ required